Conquer your fears and say goodbye to financial worries!
Have peace of mind and security to live the life you deserve.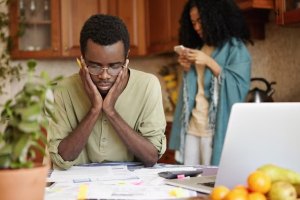 You Don't Get to Live Life Without Dealing With Money... It Impacts Every Area of Your Life
You are already a successful, high income salesperson or small business owner,
You have most of what you have dreamed about:
A beautiful house
A nice comfortable vehicle
You can cover all your monthly expenses
You have some money in the bank
Why all the uncomfortable doubts and feelings?
Tax Day…
Do I have enough money set aside? Will it be enough?
Economic Concerns…
What will I do if there is another economic downturn…Do you have flashbacks of 2008, COVID-19, and banking meltdowns?
Retirement Fears…
Is my financial future secure? Will I have enough to provide for myself in my senior years?
Clientele Database…
Where is my next customer coming from? If they don't walk in the door, will I be ok? Will I have to continue to work this hard everyday of my life?
Consistent Income…
Do you continually feel that you are forever chasing the next sale or the next customer? When do I get off the "round the clock" treadmill?
Time To Create Your Worry Proof Future!
Are you ready to go from surviving to THRIVING?
As a successful entrepreneur and high-income sales agent for the past 30 years, I have gained extensive experience in dealing with financial ups and downs. I understand the reality of entrepreneurs, business owners, and top commission earners.
My philosophy of "never give up" and my unwavering optimism perfectly match my approachable personality. My coaching is strong, direct, understanding, and non-judgmental, providing the necessary guidance while allowing time and space to find clarity.
My training is straightforward but kind and supportive, laying the groundwork for you to make dramatic changes in your financial world. You will acquire a new, clear, and viable financial life, along with an exponentially less stressful future.
Over the years, I have helped a diverse clientele of six-figure income professionals. I will help you create a place where you control the money, and it no longer controls you. You will create a life where you are prepared for any economic crisis and, better yet, ready to achieve unlimited success in good times.
So, without regret, you can enjoy what you have earned, pursue projects that ignite your passion, and cultivate a well-planned and financially unshakable future. I have changed the lives of many… let me empower you.
Debra's TEDx Riverton Video
Get ready for a financially solid future
If you are ready to achieve a new and clear financial life, contact me today to discuss how I can help you achieve your goals and create a financially unshakable future. Together, we can prepare you for any economic environment and help you achieve unlimited success.
Contact me for a FREE 30 minute private and confidential consultation
What Debra's Clients Are Saying
"I can hardly manage my own money and affairs. Basically – I was a mess with my money – from my beliefs to my bank accounts. Debra is like an angel with answers. She is solid on all the money stuff inside and out, knows her own sweet spot, and is able to gently (but firmly) sort things out."
"This work with Debra has helped me to feel confident and capable with my money decisions and now I feel more and more empowered everyday with how I use my financial abundance. I feel Debra always has my back and encourages me as I grow into the person I want to be."
"I was obsessed with not having enough money month to month, so I constantly moved money back and forth between checking and savings accounts. I had several out of sight, out of mind accounts make money tracking a nightmare. I was struggling with feeling supported in my business and feeling alone with all the money decisions. Debra helped me to get clarity and feel supported to grow my financial skills and abilities. I have learned how to track my money in a way that feels good, spend my money in a way that feels good, and earn money in a way that feels good! I have published and sold my book, and felt totally supported and encouraged all throughout the process."
"I have learned how much money worries are actually emotional. Everything is tied to money somehow and it takes planning to feel more at peace around living joyfully. Debra has taught us the importance of living joyfully and planning fun into our budget at times when life can be very serious., mundane, and routine. Living joyfully makes for a happier life."
"We now have a fund to plan for our bigger joyful events for ourselves. We plan for personal purchases within reason and feel so much better about buying things that feel like indulgences. We have implemented not discussing budget or finances during meal time. We have learned, we have 'enough' to live comfortable on our current income."
"The main problem I was facing was trauma that came out as apparent inability to become financially free no matter how hard it seemed I was trying. I was involved in business for 5 years, barely puttering along as a life insurance agent despite the 700+ emails, 2000+ social media contacts, endless training, and networking meetings. I have learned that personal money reconciliation doesn't have to be traumatic and overwhelming. I am learning to track a little at a time. Because I am beginning to believe Debra's encouragement, that I WILL land on the right program and the right client base, and that what I offer is valuable, I am able to take a look without such angst and fear. It is coming together! I am acutally beginning to earn with work that I enjoy!"
"Just recently I got my checking account to balance to the penny…something I have never accomplished. Debra keeps smiling through the camera and says once I really begin to earn and see how it feels it will feed on itself. I see this beginning to happen. Coaching was a great decision for me because I lacked the organizational skills that might seem basic to someone else but which felt completely overwhelming to me especially coupled as they were with the inner fear and trauma. Step by step, Debra helped me tackle one little thing after the next. She never got on my case or judged me if I did not finish what I had said I was going to do. I did a little at a time and slowly climbed out of the hole."
"If you're thinking about coaching with Debra, ask yourself if your money thing is holding you back. Consider whether shame and trauma might be lurking under the surface. Contemplate if a little bit of encouragement, clarity, and education might dig you out of the financial hole you find yourself in – and then think about how expensive it has been to NOT get things in place."